Canadas Steve Osaduik (also check his
BLOG
) was one of few foreigners in this years Lake Biwa Marathon. He came home in 16th place with a 2:18:29.
For mzungo.org he found the time to answer some questions.
How come that you pick a marathon in japan?
My coach Richard Lee suggested the
Lake Biwa Marathon
and after having been to Japan once for world cross in 2006 and then again this past november for the Chiba ekiden relay I knew that the Japanese would be very good at hosting a marathon.


Why Lake Biwa in particular?
Lake Biwa seemed like a good flat course. You can never be certain of things like weather, wind but I wanted to take a chance and get in a race where there are many people wanting to run fast and see what happened.


How did the race unfold for you?
Training went very well before the race so I arrived in Otsu in good shape. My coach told me only one thing before the race and that was to go through the process. So that is what I did, I went out easy and settled into a pace early on and as the race went I moved up and ran as I thought I should to get as much out of the day as I could. I think I raced well, as far as pace I was not able to hit exactly what I wanted 66:30 at half way, but I didn't give up and I continued to move through the pack all the way to the stadium finish.


What makes Lake Biwa so special?
Well Lake Biwa is special because it is an elite marathon but a very well run and organized marathon that gets a ton of support from the local community, when a marathon is the oldest marathon running in Japan obviously the race organizers are doing something right.


Runners get the deserved respect in Japan - give us an example how the organizers made it a special race for you?
Runner do get a lot of respect in Japan and that is probably what drew me to this country in the first place. The race organizers were very friendly and accomadating through out the entire process of entering the race up to arriving to the race Hotel. Once at the race they made sure we were comfortable and had everything we needed. And even though there were many good runners in the race the race organizers treated us all equal and made us feel welcome, and the biggest thing for me was after the race was done they continued to show there hospitality up to the time we boarded a taxi and made our way home. U can tell a lot about a race organization by how they treat there athletes after the race is run and Lake Biwa is second to none.


As a canadian the weather shouldn't have been a big deal - advantage or disadvantage for you?
I did not find the weather that bad at all, I ran my personal best of 2:16:49 in similar conditions, the only thing I was really worried about was the wind but it never got that strong


Did you do any special workout for Lake Biwa? Did you study the course beforehand or got information from people who ran it?
I ran most of my long marathon workouts along the seawall in Vancouver because it was similar to the course run at lake Biwa. I did watch a dvd of the race at the hotel of the previous two years to get an idea of the course. I wanted to see how the pack went out at the start, what the turn around looked like, how many times we had to run around the track at the start and finish, and to also get an idea of how the runners went towards the end of the race. I got all of this info from the race dvd's.


What is your next big race? How is the season planned?
Lake Biwa was the race where I wanted to get a qualifying time for this years commonwealth games in New dehli, but that didn't happen so now my coach and I will need to reevaluate what we what to do over the next few months. But the races that I am sure will happen are the canadian national half marathon champs in Montreal in April, The vancouver Sun run in May and possibly the 10km on the track in May at Stanford. The unknown is the next marathon.

You are sponsored by adidas. Tell us about your race setup. Shoes, Shirt, Short etc.
I am sponsored by Adidas and they have been helping me for about 8 years now. I raced in the adidas adizero racing singlet and shorts, I wore an adizero racing vest under my singlet because of the temperature, I wore adidas gloves and my favorite right now the adidas adizero adios racing flat, I also wore compression socks I received from a company
smooth toe socks
, they helped out a great deal.


What is the long distance scene in Canada and particular in Vancouver like?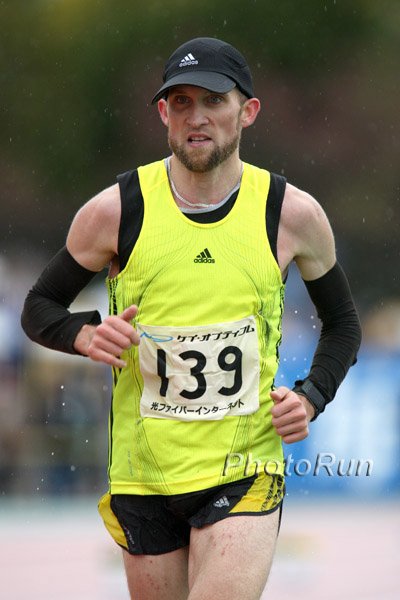 The scene is up and down, I used to live on Vancouver island where at one point the elite distance running athlete had many good options for training and it seemed that Vancouver was lacking where it had thrived in past years with groups like the Kayjaks, but now there groups popping up in Vancouver and there is a real boom starting up again, and it only makes sense as this is really the absolute best training climate in all of Canada and it is just sitting here waiting for athletes to take advantage. AS far as my training group it really just popped up at the perfect time for me, right after an injury and a recent move to the area, Coach Richard Lee was looking to switch over to coaching and a group just spawned from that.


Do you have any running role models?
I like the training philosophies of the runners from the 70's and 80's as far as the marathons, people like Rod De castella, Bill Rogers, Steve Jones and Rod Dixon.


Who is your favorite hockey player?
After the lock out a few years back I just haven't been able to get back into hockey the way I was before but after hearing about the hockey player Sean Avery i thought this guy is interesting, he had so much baggage that this is a guy I can route for to get through the demons that he has and basically the entire league that is against him and come back and prove that he is great and deserves to be there, he is an underdog and I more times than not like to route for the underdog.


Langley, British Columbia, Canada
PBs:
Half Marathon - 1:04:52, Huntington Beach, USA (2010)
Marathon - 2:16:49, Victoria, Canada (2006)

Steve answered the questions via E-Mail on the 8th of March 2010.
Mzungo.org thanks for taking the time and wishes a successful and fast 2010 season.