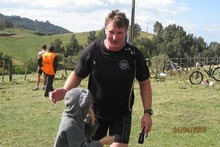 Ian Winson should be helping to organise the race that gave him "a purpose and sense of belonging". Instead, he is fighting for his life after losing his legs in the weekend's deadly Auckland watermain explosion.
Mr Winson, 47, a network engineer for Watercare, was seriously injured when a gas explosion tore through a tunnel he and colleague Philomen Gulland were inspecting in Onehunga on Saturday morning.
Ms Gulland, a 48-year-old Canadian-born mother of two, was killed and Mr Winson was blown out of the tunnel and lost part of both legs.
READ ON...