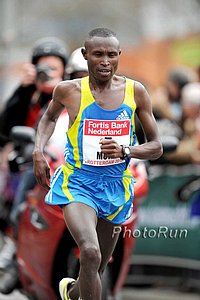 From Wikipedia, the free encyclopedia
Geoffrey Kiprono Mutai (born 7 October 1981) is a Kenyan long distance runner who specialises in road running competitions. He is a two-time winner of the Eindhoven Marathon and has one of the fastest times in the marathon with a best of 2:04:55. His other significant victories include the Monaco Marathon and he is a strong half marathon runner as well, with previous wins at the Valencia Half Marathon and RAK Half Marathon, and a best of 59:30 to his name.
He won the 2008 Monaco Marathon, clocking a time of 2:12:40 to beat second-placed Jacob Kitur.[1] He won the Loopfestijn Voorthuizen 10 km race in a course record time of 28:05 that July.[2] He made significant improvements at the Eindhoven Marathon, setting a new personal best of 2:07:50, which was a course record and over a minute and a half ahead of the opposition.[3]
Mutai opened 2009 with a win at the South Rift Valley 12 km championships.[4] He signed up for the Seoul International Marathon, but was unable to finish the race.[5] He ran at the Daegu Marathon a month later and finished eighth overall with a time of 2:10:45.[6] He returned to the Loopfestijn Voorthuizen race a few months later and improved upon his previous course record, running under 28 minutes for the first time to set a new best of 27:39.[7][8] He had a second consecutive victory at the Eindhoven Marathon, further improving the course mark and his personal best to 2:07:01.[9] He won the Valencia Half Marathon in late 2009, seeing off the challenge from pre-race favourite Boniface Kirui and setting a new best of 59:30 over the distance.[10]
The Ras Al Khaimah Half Marathon was Mutai's first major race of 2010, and he beat Tadese Tola to the finish line. Although his time of 59:43 was quick, it seemed a relatively modest achievement given the tactical running and the race's historically fast times.[11] He took on the World's Best 10K in Puerto Rico a few weeks later, but Moses Masai and Sammy Kitwara pushed him into third place.[12] Mutai ran one of the fastest marathons ever at the Rotterdam Marathon in April, improving on his previous best by a large margin with a run of 2:04:55. However, Patrick Makau ran even faster and Mutai had to settle for second place.
Mutai Geoffrey Kiprono
KEN
| Sex | Weight | Height | Date of Birth | Place of birth |
| --- | --- | --- | --- | --- |
| M | | | 07/10/1981 | |
Personal Best - Outdoor
Performance
Wind
Place
Date
10,000 Metres
27:27.79
Nairobi
26/06/2010
10 Kilometres
27:39
Voorthuizen
15/07/2009
15 Kilometres
42:34
Ras Al Khaimah
19/02/2010
20 Kilometres
56:52
Ras Al Khaimah
19/02/2010
Half Marathon
59:30
Valencia, ESP
22/11/2009
25 Kilometres
1:13:51
Rotterdam
11/04/2010
30 Kilometres
1:28:57
Rotterdam
11/04/2010
Marathon
2:04:55
Rotterdam
11/04/2010
Progression - Outdoor
Season
Performance
Wind
Place
Date
10,000 Metres
2010
27:27.79
Nairobi
26/06/2010
2009
28:07.1
Nairobi
27/06/2009
2008
28:01.74
Nairobi
28/06/2008
10 Kilometres
2010
27:44
San Juan, PUR
28/02/2010
2009
27:39
Voorthuizen
15/07/2009
2008
28:05
Voorthuizen
16/07/2008
15 Kilometres
2010
42:34
Ras Al Khaimah
19/02/2010
20 Kilometres
2010
56:52
Ras Al Khaimah
19/02/2010
Half Marathon
2010
59:43
Ras Al Khaimah
19/02/2010
2009
59:30
Valencia, ESP
22/11/2009
25 Kilometres
2010
1:13:51
Rotterdam
11/04/2010
30 Kilometres
2010
1:28:57
Rotterdam
11/04/2010
Marathon
2010
2:04:55
Rotterdam
11/04/2010
2009
2:07:01
Eindhoven
11/10/2009
2008
2:07:50
Eindhoven
12/10/2008
Honours
Rank
Performance
Wind
Place
Date
10,000 Metres
17th African Championships
3
f
27:33.83
Nairobi
28/07/2010
ALL RACEREPORTS VIA IAAF
Makau storms 2:04:48 in Rotterdam
With a sizzling 2:04:48 victory, Patrick Makau became the fourth fastest marathoner ever after his 2:04:48 victory at the Rotterdam Marathon on Sunday.
Windy and rather cold (8-10 degrees C) conditions were a hindrance to the hope of bettering the Rotterdam course record, set last year after a thrilling finish between the Kenyans Duncan Kibet and James Kwambai who with 2:04:27 clocked the fastest marathon time of 2009.
But Makau weathered the conditions more than adequately with his effort, at the moment the fastest of the year. His compatriot Geoffrey Mutai also broke the 2:05 barrier, finishing second in 2:04:55.
While the men's contest had a close finish, the women's edtion was a lonely affair for Ethiopian Aberu Kebede who clocked 2:25:29. American Magdalena Lewy-Boulet was second in 2:26:22, a personal best.
Dutch road races are good for Patrick Makau. The 25-year-old Kenyan ran his ninth Half Marathon on 14 March at The Hague winning in 59:51.
"The victory in The Hague was the decision to start in the Rotterdam marathon.'' Makau said. "I had injury problems since last year. The half marathon in The Hague gave me the feeling that everything was okay'' And Makau showed that he was O.K., kicking away from Mutai over the final kilometre.
After 32 kilometres in the Kralingse Bos (Kralingen Wood) the young Ethiopian Feyisa Lelisa, just 20, broke away from a group of ten. Pressing the pace, the group broke. Makau, Mutai and a third Kenyan, Vincent Kipruto, followed, with the quartet running together behind Lelisa.
The four passed the 35Km marker in 1:43:52, when the Lelisa, and then Kipruto, fell back. In the final seven kilometres it became a duel between Makau and Mutai with Makau mostly leading before making his final break.
In the women's contest Kebede led from the outset for her dominating victory.
Wim van Hemert for the IAAF
Leading Results -
Men
1. Patrick Makau KEN 2:04:48 PB
(splits: 14:48-29; 16-43:57; 58:40; 1:02:08; 1:13:51; 1:28:58; 1:43:52; 1:58:38)
2. Geoffrey Mutai KEN 2:04:55 PB
3. Vincent Kipruto KEN 2:05:13 PB
4. Feyisa Lelisa ETH 2:05:23 PB
5. Bernard Kipyego KEN 2:07:01 PB debut
6. Francis Kiprop KEN 2:08:53
7. Daniel Rono KEN 2:09:49
8. Elias Chelimo Kemboi KEN 2:10:29
9. Koen Raymaekers NED 2:11:09 PB Dutch champion
10. Yared Dagnaw Sharew ERI 2:11:28
11. Jonathan Maiyo KEN 2:12:45 P debut
12. Michael Shelley AUS 2:13:05 PB debut
13. James Carney USA 2:15:50 PB
14. Evans Kiplagat KEN 2:16:25
15. Ronals Schroer NED 2:16:28 PB second in Dutch championship
16. Rens Dekkers NED 2:17:10 PB third in Dutch championship
17. Jeppe Farsoeht DEN 2:18:47 PB
18. Jason Warick CAN 2:21:09
19. Rachid Benjira SWE 2:21:20
20. James Kwambai KEN 2:24:07 (second last year in 2:04:27)
Women -
1. Aberu Kebede ETH 2:25:29 PB
(splits: 17:03; 33:57; 51:10; 1:08:02; 1:11:59; 1:24:58; 1:42:00; 1:59:17; 2:17:15)
2. Magdalena Lewy-Boulet USA 2:26:22 PB
3. Xialin Zhu CHN 2:29:42
4. Yevgenia Danilova RUS 2:31:44 PB
5. Beatriz Ros Blanco ESP 2:32:28
6. Alina Istadura ROM 2:33:36 PB
7. Zoila Gomez USA 2:33:54
8. Meseret Mengistu ETH 2:34:07 PB Debut
9. Olga Glok RUS 2:38:10
10. Merel de Knegt NED 2:38:41 PB Dutch champion
11. Xenia Luxem BEL 2:39:01 PB Debut
12. Anna von Schenk SWE 2:39:20
13. Inge de Jong NED 2:40:55 PB Debut, second in Dutch championship
14. Miriam van Reijen NED 2:41:24 PB third in Dutch championship
15. Colette Fagan GBR 2:46:32
Mutai cruises 2:07:01 course record in Eindhoven
Geoffrey Mutai scored his second consecutive victory at the 26th edition of the Eindhoven Marathon on Sunday (11).
Four days after his 28th birthday the Kenyan won the race in an impressive 2:07:01 bettering the course record he set last year with a time of 2:07:50. Mutai thanked his course record due to a very fast final stage where he was forced to run solo. He clocked a very fast five kilometres between 35 and 40 kms with 14:24.
The women's race was won by 28-year-old Namibian Beata Naigambo in a personal best of 2:31:01.
The weather in Eindhoven, in the south of The Netherland, was not ideal with strong wind along several parts of the fast course. The temperature was around thirteen degrees under weak sunshine.
Mutai: 'I know I can be faster than this'
From the start of the men's race there was a leading pack of more than 20 runners led by six pacemakers. They covered the first five kilometres in 15:09, and went through 10Km in 30:13. With a good pace and most of the leaders still in contentions, the midway point was passed in four seconds under 1:04:00.
At 25 Km (1:16:09) the lead group began to splinter. Mutai was running behind the pace makers at the front of the lead group which was reduced to 10 - Mutai, Philip Kimutai Sanga, Joseph Ngeny, Samson Barmao, Jonathan Kosgei Kipkorir, James Rotich, Kenai Kiprotich Kenei, Jacob Kitur, Philip Kanda (all Kenya) and Ethiopian Gebreselassie Tsegay.
With a five kilometres split of just over 15 minutes (15:03) the 30 kilometres was passed in 1:31:12. Five kilometres further on (1:46:32), with the last two pacemakers, Jonathan Keiyo and Josphat Kamzee leaving the race, Mutai accelerated and within a few hundred metres he opened a huge gap.
The following group broke rapidly and at the 40 kilometre marker, which Mutai passed in 2:00:56, his nearest opponents Ngeny (2:01:41) and Sanga (2:01:45) were well back. With strong strides Mutai went on and he was informed he could break the course record and his personal best. With 6:05 for the final 2195 metres he finished in 2:07:01.
Philip Kimutai Sanga and Joseph Ngeny, who eventually finally finished second (2:08:07) and third (2:08:10), both set huge personal best times.
In total nine runners broke 2:10:00.
Mutai said he was never in doubt about breaking his course record and personal best.
"I always start rather slow," Mutai said. "I do that in training also. In the end I accelerate. I did it here too and with success. I hope to run a marathon in the future with stronger opponents. I know I can be faster than this.''
Namibian Beata Naigambo, won the women's race in 2:31:01, a personal best. Kenyan Lydia Kurgat, who won in Eindhoven two years ago, finished second in 2:31:26, also a personal best.
Wim van Hemert for the IAAF
Leading Results -
Men -
1. Geoffrey Mutai, KEN 2:07:01 PB course record old Mutai 2:07:50 2008
(splits: 15:09-30:13-45:19-1:03:56-1:16:09-1:31:12-1:46:32-2:00:56-2:07:51)
2. Philip Kimutai Sanga, KEN 2:08:17 PB
3. Josephy Ngeny, KEN 2:08:10 PB
4. Samson Barmao, KEN 2:09:20
5. Jonathan Kosgei Kipkorir, KEN 2:09:22
6. David Tarus Kiptui, KEN 2:09:24 PB
7. James Rotich , KEN 2:09:33
8. Kenai Kiprotich Kenei, KEN 2:09:34
9. Tsegay Gebreselassie, ETH 2:09:44 PB
10. Jacob Kitur, KEN 2:11:40
11. David Njagi, KEN 2:11:47 debut
12. Philip Kanda, KEN 2:11:53 PB
13. Stanley Rono, KEN 2:12:10
14. Hilary Bett, KEN 2:13:51
15. John Kirui, KEN 2:14:02
16. Hans Janssens, BEL 2:15:26 PB
17. Julius Muriuki, KEN 2:15:53
18. David Kipkorir Rutoh, KEN 2:16:43
19. Ben Kimutai Kimwole, KEN 2:16:46
20. Artur Kozlowski, POL 2:16:58 debut
21. Eric Gerome, BEL 2:19:40
22. Chris Kipyego, KEN 2:19:49
23. Caleb Kipkemoi Kosgei, KEN 2:19:50
24. Guy Fays, BEL 2:20:59
25. Stijn Fincioen, BEL 2:24:15
Women -
1. Beata Naigambo, NAM 2:31:01 PB
2. Lydia Kurgat, KEN 2:31:26 PB
3. Virginie Van Droogenbroeck, BEL 2:43:48 PB
4. Inge van Bergen, NED 2:44:07 PB
5. Ingrid Prigge, NED 2:44:19
6. Mounia Aboulahcen, BEL 2:44:40
7. Veerle d'Haese, BEL 2:48:20
8. Ann Parmentier, BEL 2:50:06