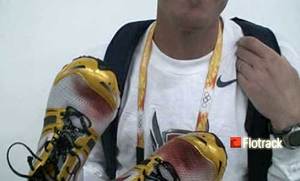 by Tara Murray
Olympic marathoner Brian Sell is returning to his roots in Central Pennsylvania after retiring from competitive running following the 2009 New York City Marathon. The Altoona native and St. Francis University graduate will be attending Penn State to study biotechnology in the fall.
"Everybody in my family went to Penn State except me," Sell said during a phone call from Seattle, where he was representing his sponsor Brooks at the Seattle Rock 'n' Roll Marathon. While Sell, 32, is content to immerse himself in his studies for the time being, he will be affiliated with Brooks through the end of the year and hasn't ruled out running one of the Rock 'n' Roll half marathons they sponsor — though he opted not to run the one in Seattle due to a hectic schedule.
Once he adjusts to his new academic life, though, Sell said he could return to training and racing.
While he will leave his Hanson- Brooks Distance Project teammates in Michigan, he's already identified possible training partners in State College in Luke Watson, a 2:15 marathoner and fellow Penn State graduate student, and Artie Gilkes, Rebecca Donaghue's coach and a former Nittany Lion runner.
For now, Sell will focus on his studies, and pursuing his dream of attending dental school.
"It's been 10 years since I've been a student," he said, "and I haven't really cranked the brain up for anything other than race splits."
He's also busy moving himself, his wife, a fellow Pennsylvania native, and two children to Pennsylvania.
Sell was third in the U.S. Olympic marathon trials in 2007, and finished 22nd in the marathon at the Beijing Olympics in 2008. He has finished fourth in the Boston Marathon and sixth at Chicago, and owns personal bests of 1 hour, 2 minutes, 39 seconds in the half marathon and 2:10:47 in the marathon.
Local race results
Tatum Del Bosco, 14, won both the Black Moshannon 10K and the Boalsburg Memorial Day Run on Memorial Day weekend. At the Crack O' Dawn 5K on June 12 in Boalsburg, she continued her domination, finishing in 19 minutes, 35 seconds, the fourth overall finisher and nearly 2 minutes ahead of the next female. James Tillapaugh won the race in 17:06.
Matt Manfred won the 10th annual Speed To Read 5K at the Grange Fairgrounds in Centre Hall on June 19 with a time of 17:16. Meira Minard was the first woman in 19:36.
Elijah Shekinah won the first Strides For Nature 6K road and trail race, held June 19 at Tussey Mountain, in 24:12. Francis Mateycik was the first woman in 33:48.
Olivier Rolin won the first Millheim Sprint Triathlon on June 26 with a time of 1:09:26. Becky Wit-trig was the first woman in 1:21:29. The course included a 300-yard pool swim, 15-mile bike ride, and 3-mile run.
Local runners grab awards
Luke Watson won the Red Rose Run 5-miler in Lancaster on June 5 in 24:40. His wife Georganne was the third woman in 30:33.
On the same day, Rebecca Donaghue was the first American and ninth overall in 15:46 at the Freihofer's Run for Women 5K in Albany, N.Y. Kenyan Emily Chebet won the race, setting a course record of 15:11.
Maggie Selzer, a State College graduate now attending grad school in Connecticut, was the first woman at the Glastonbury River Run 5K in Connecticut on April 25 with a time of 20:09.
Several Centre County competitors placed at the Upper West Branch Triathlon in Curwensville on May 15. The course included a 4.4-mile run, a 5-mile paddle down the West Branch of the Susquehanna, and a 15-mile bike ride.
Lisa Mazzocchi of State College was first among the women 40-49 in 2:52:28. Chad Miner of Bellefonte was the first 30-39 man and fifth overall in 2:16:10. The winner of the men's relay team division was Philips Hotel (Tom Kistler, Tony DeBouf and Josh Cone) in 1:54:12. Team Try In 2 (Ann Marie Oldani, Lisa Wandel and Janet Jonson) won the women's relay division in 2:16:46.
Upcoming races
The Central PA 4th Fest will kick off with the Firecracker 4K at 9 a.m. Sunday. The race starts and finishes near the Bryce Jordan Center. It typically produces some fast winning times, but is also popular with families and walkers because of the short distance and proximity to 4th Fest. Race day registration costs $20 and begins at 7:30 a.m. across Curtin Road from the BJC.
The Central Pennsylvania Festival of the Arts will close with the Sue Crowe Memorial Arts Festival Races at 8:30 a.m. on July 11. A 5K and 10K will be offered, with race headquarters at Medlar Field at Lubrano Park. Registration is $17 if mailed by July 7 or completed online at active.com by July 10 and race day registration is $20. Racers can also register at the lower rate and pick up their packets on July 10 from 10 a.m. to 5 p.m. at the Centre County Convention and Visitors Bureau.
Tara Murray writes a monthly running column for the Centre Daily Times. She can be reached at TaraEmily@gmail.com.